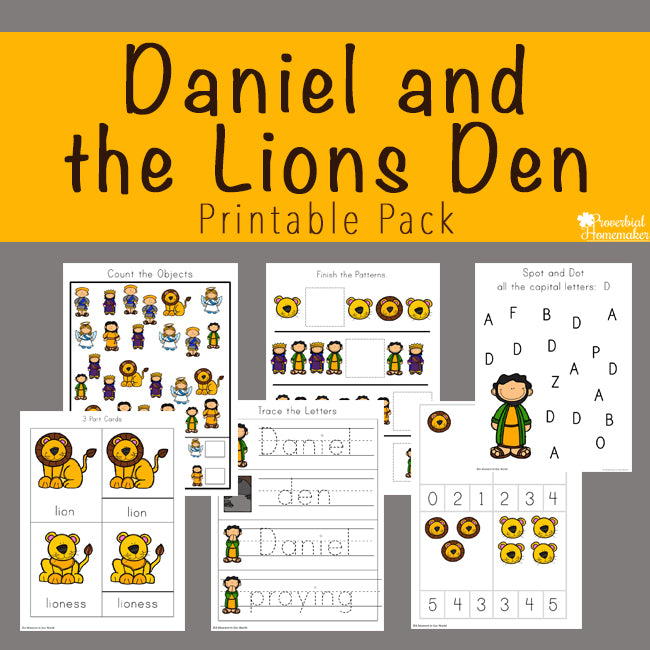 Daniel and the Lion's Den
Daniel and the lion's den is a wonderful story for kids that helps them see that hope in God is well founded, because He is mighty to save! Read the account of Daniel in the lion's den from the Bible and then enjoy this fun printable pack to reinforce the lesson with your children. 
Vocabulary Cards – these are great for memory/matching games as well as spelling and vocabulary.
Colouring Pages– Decorate or colour as you wish and hang up to decorate your rooms.
I Spy– These pages are great for counting practice.
Word Tracing– These pages help children learn to form letters and spell words correctly.
Colour Matching Cards– A great way for kids to learn their colours.
What Comes Next?
Finish the Pattern
Spot and Dot– Spot the letters and then dot them.
Shadow Matching Cards– These shadow matching cards are so much fun and can be used in games such as memory/matching as well.
Story Writing Pages – These can be used to retell the story of Daniel and the Lions in their own words.
Size Sequencing Cards– Match the cards from smallest to biggest or the other way round.
Count and Clip Cards– These are great for kids learning to count and recognize numbers.
Alphabet Matching Cards – These are great for learning the lowercase and uppercase letters of the alphabet.
Number Puzzles – These are great for learning skip counting.
4 Piece Puzzles– These are always fun for kids to do. Store in zip lock bags and take them with you to appointments to keep the kids occupied.
Lion Emotions Book – This book contains lions with thirteen different expressions on their faces. This mini book can be used to talk to your children about their emotions.
Bible Copywork Pages– This pack includes 16 pages of Bible Verses from Daniel chapter 6 in both King James and English Standard Versions for your child to copy and then memorize.