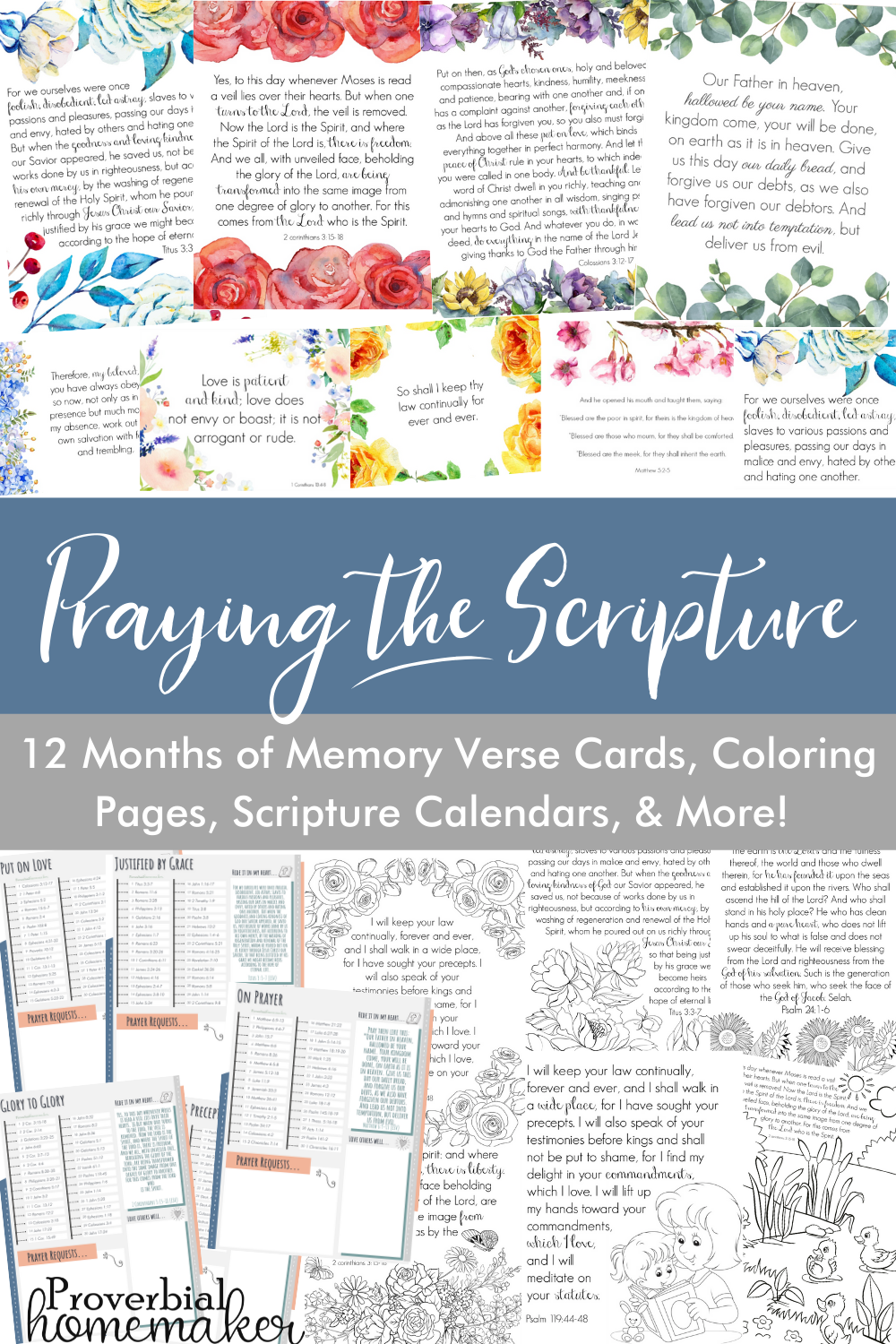 1 Year of Praying the Scripture
Regular price $14.00 $0.00 Sale
This printable comes in ESV and KJV and includes 12 months of resources to help you meditate on and pray through Scripture. For each passage, spend a month or so meditating on His Word, hiding it in your heart, and praying through the verses.
Here are the passages you'll cover:
Lord's Prayer - Matthew 6:9-13

Love Is - 1 Corinthians 13:4-8

The Lord is My Shepherd - Psalm 23

Wonderfully Made - Psalm 139:13-18

The Beatitudes - Matthew 5:3-10

Thinking of Others - Philippians 2:3-11

Light of the World - Philippians 2:12-16a

Glory to Glory - 2 Corinthians 3:15-18

Seeking His Precepts - Psalm 119:44-48

The Earth is the Lord's - Psalm 24:1-6

Put On Love - Colossians 3:12-17

Justified by Grace - Titus 3:3-7
Your printable includes the following for each month's theme:
Scripture art print: post it on the wall for memory work practice or frame it for decor or as a gift.

Coloring pages: Each passage includes 1 or 2 coloring pages. Color while praying through the passage, memory work practice, or for your kids as they listen to you read God's Word.

Memory verse cards: Use as memory work flash cards, laminate and put on a book ring, tape to a bathroom mirror, laminate and mount on colorful card stock and mail to a friend as encouragement!

Prayer notes: Some thoughts and prayers about each passage, for use during personal devotions or for discussion time with your children.

30-day Scripture calendars: Pray through the verse of the day. Optionally, write the verse or portions of it. Includes a space for prayer requests you want to cover and a place to brainstorm ideas for intentionally blessing others during the month.
I hope this resource is a blessing to you and your family!
~ Tauna
(Note: This resource is a collection of the Read, Pray, Love printables originally published on the Proverbial Homemaker blog in 2018, with newly added Scripture calendar cards for each month.)