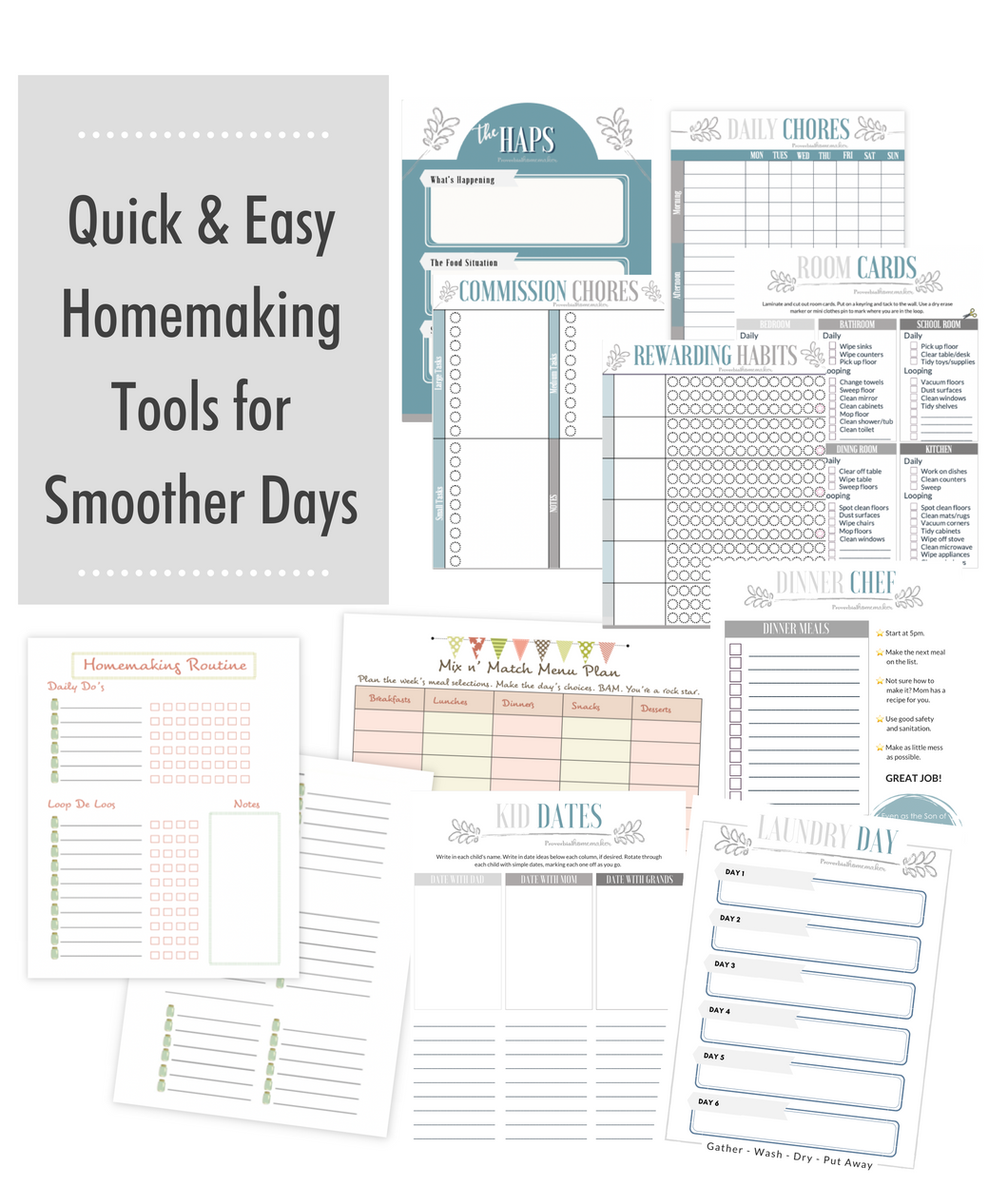 Quick & Easy Homemaking 
Tools for Smoother Days
These pages are my favorite quick-start tools for homemaking success! The download includes the printable for each tool listed below and instructions on how to use them. 
Mix n' Match Menu Planner - Make a simple and flexible plan for mealtimes! Perfect for domestically challenged moms who hate being locked into a rigid plan.  
Homemaking Routine Loop Schedule - Get the most important things done each day without letting the rest fall through the cracks! Set up a homemaking loop schedule for success.

 
Daily Chores Chart (for up to 6 kids and up to 10 kids) - Get a clockwork chore habit in place three times a day for a smoother week in your homemaking and homeschooling!
Room Cards - Use these cards to make steady progress on keeping your living spaces clean and tidy. Helpful for use with the chore chart or on their own!
Rewarding Habits Chart - Do you and your kids have habits you want to make progress on? Use this handy chart to set up goals and rewards!

 
Commission Chores Chart - Give your kids a chance to earn money with chores once a week! Great opportunity for teaching money management and tithing. This helpful chart will organize the tasks by difficulty so they can choose from them.

 
The Haps Chart - Tired of getting asked what's happening today? Or what's for dinner? Or if they'll get to use screens? The Haps is here to help. Laminate and post it on the fridge. Fill it out each day or delegate the task to an older child. Enjoy 3% less chaos. ;) 


Kid Dates - Struggling to make time for 1:1 time with each of your kids? Put together this loop rotation to help you be intentional. Write your kids' names in each date column. Laminate the page. When you, your spouse, or the grandparents have time for a "date" with a child, see who's next on the list. Mark with a dry-erase pen to keep track of who has had a date. Use the lines below to write in date ideas. Alternatively, cut out each of the card and tack them to a wall on a book ring. Use a clothes pin to keep track of which child is next up for 1:1 time.


Dinner Chef - Set up a rotation of meals for your kids to cook! This is a great way to give some responsibility to older kids and help you be intentional about teaching younger ones to cook. Write simple meal ideas on the lines (choose easy/no-prep ones for Sundays). Make sure you have the ingredients for those meals on-hand. For the upcoming meal, write the child's initials in the box. X it off when it's been completed. 


Laundry Day -

Teach your kids to start doing their own laundry! Set up a rotation by individual or by room of the house. For each day, write in who will be doing laundry for that day. Laminate the page and use a dry-erase pen to put a star next to each place. As the laundry tasks are completed, erase the star.