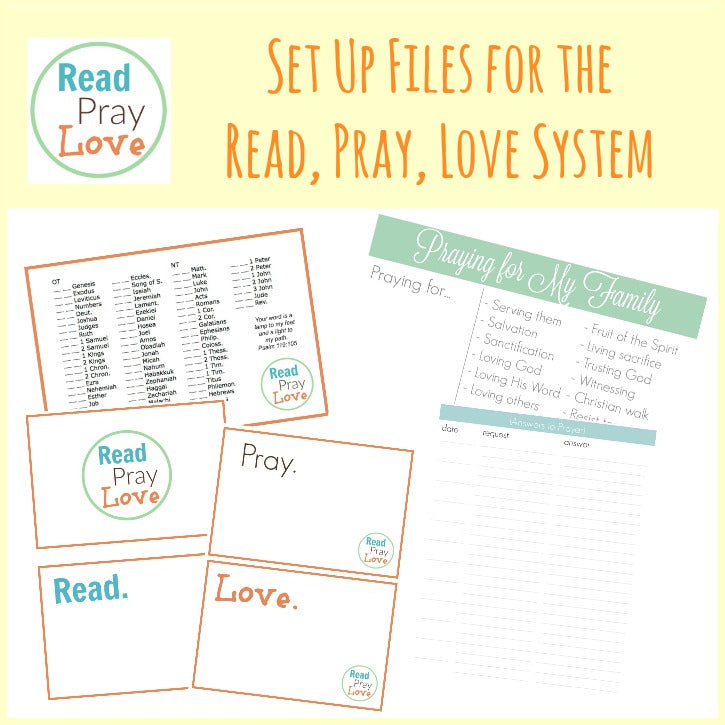 Read, Pray, Love Set Up Files
NOTE: These setup files are automatically included in the prayer printable packs for each year's Read, Pray, Love edition. 
This product includes the Read, Pray, Love setup files that contain prayer and scripture reading tools. 
Set up files for the Read Pray Love system binder – a wonderful way to diligently pray the scripture over your family all year long!
Do you want to be consistent in reading God's word? Is your desire to be a woman of prayer, lifting up your family and loved ones as you pray the scriptures and hide it in your heart? Read, Pray, Love is a simple and flexible tool for women who want to dig into God's word, praying through and memorizing scripture to bless their families.
These set up files for the Read Pray Love challenge will help you set up a binder with the following: 
a scripture reading checklist
an Answers to Prayer page
a Praying for My Family cheat sheet
flip book dividers if you want to set up a flip book for memorizing/reviewing your scripture cards
Each month, you'll pray for a new godly character trait for you and your family. CLICK HERE for more information on Read, Pray, Love, along with links to the accompanying scripture printable packs that you can find in the store. As new scripture printable packs are released, they are available for a limited time.