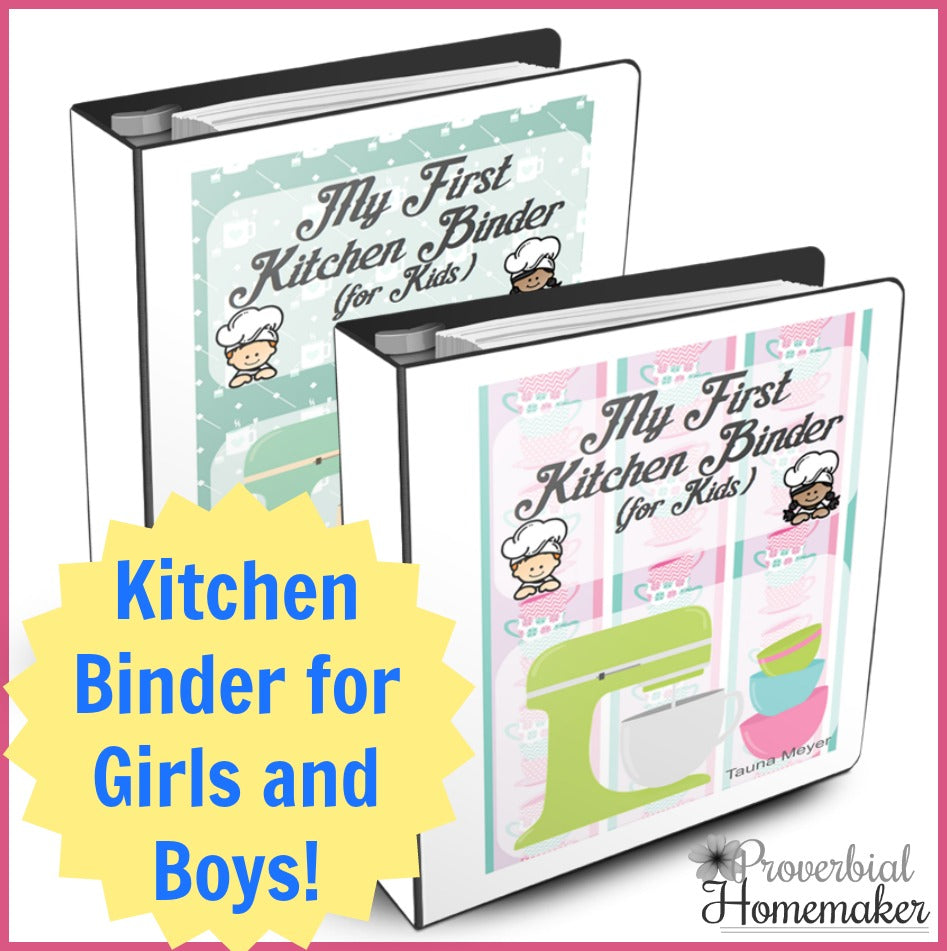 My First Kitchen Binder for Kids
Regular price $17.00 Sale
Do you have a little cook in training? Kids love to work in the kitchen and My First Kitchen Binder for Kids is perfect for helping them get started! Your child will not only have a helpful tool but a treasured keepsake to enjoy for years to come. 
Note: This is a digital product. No physical binder/book will be mailed to you. When you buy, you get BOTH files - a pink theme and one that uses a green theme.
Here is what's included each file. SEE SAMPLES by
clicking here
for a PDF or checking out the image gallery on this page. Note that only shows about 35 out of 130+pages! 
Kitchen Safety

Kitchen Safety Rules
Food Safety Rules
Knife Safety Rules
Oven Safety Rules
Microwave Safety Rules
Washing the Dishes

At the Table

Casual Table Settings
Casual Table Settings Placemat
Formal Table Settings
Formal Table Settings Placemat
Table Manners

Cooking Terms

Cooking Terms Vocabulary
Cooking Abbreviations
Oven Temperatures
Conversation Chart
Substitutes
Food in Season – Fruit
Food in Season – Vegetables

 I'm the Cook
Tea Party Time

Invitations
Tea Party Decorations 
Tea Party Food
Tea Party Menu
Tea Party Food Labels
Tea Party Memories

Fabulous Food Party Time

Invitations
Fabulous Food Party Decorations
Fabulous Food Party Food
Fabulous Food Party Menu
Fabulous Food Party Food Labels
Fabulous Food Party Memories

Planners

Shopping List
Pantry Inventory
Freezer Inventory
Weekly Menu Plan
Monthly Menu Plan

Recipes

Create Your Own
Favorite Family Recipes
Blank Recipe Card
What's Cooking
List of Favorite Family Recipes
3 Ingredient Scones
Banana Ice Cream 
Pancakes
Berry Crush Drink
Milo Balls
Mini Muffins
Butterscotch Biscuits
Scrambled Eggs
No-Bake Caramel Slice
Easy Pizza Dough

Notes
Fun Activities

Cooking Vocabulary
Kitchen Appliances and Tools
What Would You use? (Kitchen Appliances)
Kitchen Tools
What Would You Use? (Kitchen Tools)
Measuring Jugs Activities
Measuring Cups Activities
Measuring Spoons Activities
Cooking Terms Word Search
Kitchen Items Word Search
Answers