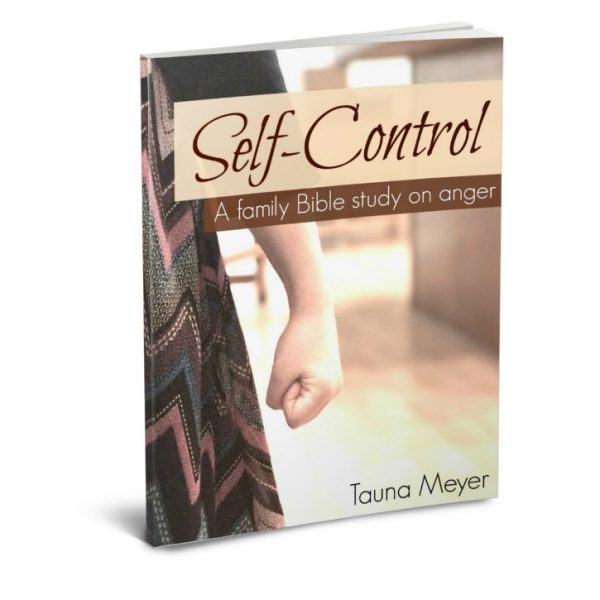 Self-Control: Family Bible Unit Study on Anger
Anger is an issue in many homes. It may come out as "frustration," gestures and facial expressions, sighing, yelling, or harsh words. We may call it many things, but at the base of it, we are sinning in our anger. 
(NOTE: This is a digital download. No physical copy will be mailed.) 
Teaching our children to handle feelings of anger and frustration in a biblical way is an important part of our job as parents. Learning that same self-control for ourselves is just as critical. The Anger vs. Self-Control Unit Study is a result of much prayer, study, and application in our own home. 
All scripture is given by inspiration of God, and is profitable for doctrine, for reproof, for correction, for instruction in righteousness, that the man of God may be complete, thoroughly equipped for every good work. – 2 Timothy 3:16-17
Self-Control Family Bible Unit Study
As I said, this study is a product of a lot of my own Bible study as well as wonderful godly character training resources we use in our home. I am so pleased to be able to share this with you all!
Here's what you'll find in the Self-Control Unit Study: 
5 days of devotions and lessons:

Day 1: Sinning in Anger is Foolish
Day 2: Consequences of Sinning in Anger
Day 3: Self-Control is Wise
Day 4: Blessings of Self-Control
Day 5: Handling Anger in a Godly Way

Detailed teaching tips to make the study work best for your family
Memory verses and copywork pages (ESV)
Extra activity and study ideas 
Scripture cards for you and your children
"Anger vs. Self-Control" poster for a hands-on activity and/or visual aid (color and black and white)
Consequences of Sinning in Anger Vs. Blessings of Self-Control Chart
This little character unit is for your kids and for you. My prayer for you as you go through this study with your children…
Thank You, Lord, for Your faithfulness. Please grant us wisdom and patience as we learn to to love You and others. Give us gentle words and voices, great discernment, and the blessing of Your presence as we teach Your children from Your word.
Amen.